Cycling to schools in the Sunset District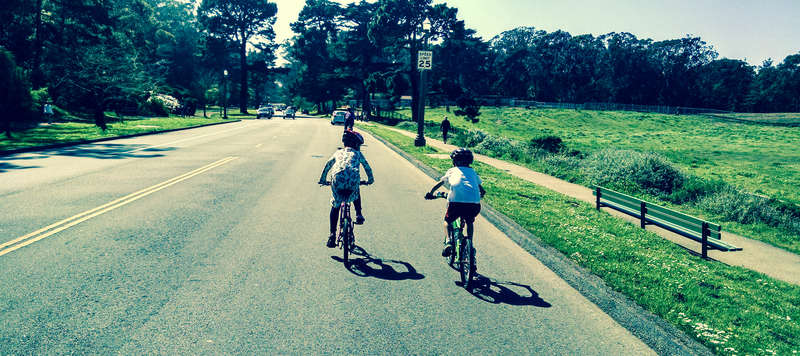 There are many reasons to ride a bike to school. It's fun. It's good exercise. It develops a child's sense of independence. It provides quality time together for children and parents. It spares the air.
But if you don't already ride regularly, starting can be intimidating and difficult. This page aims to provide bike-to-school advice and concrete route suggestions for parents and children in the Outer Sunset, from Lawton Elementary in the north to Ulloa Elementary in the south, and from Sunset Elementary in the west to Lincoln High in the east.
Basic tips
Invest in basic safety equipment and proper bicycle maintenance.

Ensure that your child always rides with a properly fitted bike helmet. Consult a bike shop.
If you or your child rides at dusk or after dark, make sure that bikes are equipped with good front and rear lights, and that riders have reflective vests or backpack covers.
Use reflective ankle bands even during the day: they are easy to carry and very visible because of their continuous up-down motion.
Consider transporting smaller children (kindergarten and elementary school) with a cargo bike, a tandem, or a trailer bike. A tandem is the most expensive option, but the one that will likely provide the most enjoyment over the years. Mechanisms exist to adapt adult-size tandems to even small children.
Inspect and tune up the bike on a regular basis.

Find a comfortable, low-traffic route between home and school. Consider one of the suggested routes below as a starting point. Try riding the route first alone or at a less busy time time of day, before you bike in the morning with your child.
Arrange a bike commuter pool with other families in your neighborhood. Riding together is both safer and more enjoyable.
Consider one of the SFBC's bicycle safety workshops. They're free and fun.
Make cycling a regular thing. Even if you cannot cycle to school every day, designate one or more days every week or month for riding to school, and make them a routine.
Additional materials
The San Francisco Bicycle Coalition is a great resource on cycling with children in our city. Their Youth & Family resources page has many useful links, including pointers to regularly scheduled and free "Family Biking" workshops. They also publish a convenient list of Rules of the Road, as well as the excellent Family Biking Guide, a how-to manual for effective urban cycling from pregnancy to a child's elementary school years.
Bicycle route suggestions
The Sunset is a grid across rolling terrain that climbs from west to east, with a major hill rising towards Golden Gate Heights and roughly bisected by Quintara St.
Designated bike routes run north-south and east-west on streets that have less redundant grade and fewer steep blocks than average.
The north-south bike routes are 20th Ave (but beware the intersections at Judah and Noriega), 34th Ave, and Great Highway. In addition, the streets adjacent to Sunset Boulevard, 36th and 37th Ave, have little traffic and few hills. 22nd and 30th Ave also make for good riding.
The east-west bike routes are Kirkham, Ortega, and Vicente Streets. Moraga, Lawton, and Santiago are also good cycling streets.
Moreover, with the exception of thoroughfares like Sunset, Judah, Noriega, and Taraval, even streets that are not designated bike routes tend to have moderate traffic and good cycling conditions. Some, however, are hillier than others.
To find a good route to your specific school, refer to the topographic map below, on which bike routes are highlighted in green (solid or dotted). Or explore the interactive Google map.